Quality Policy
Christa Ltd is a leading producer of premixes and complementary feed for the Bulgarian market and offers different products and solutions in the field of animal feed nutrition.
The company has a strong engagement in developing and maintaining high-quality products and services as well as long-term relationship with customers and partners, based on trust and loyalty.
Our vision is to achieve a symbiosis between client and supplier of products and services, which is fundamental for our image as a well-established and reliable partner.
Christa's management declares its responsibility to develop, integrate and continuously improve its quality management system in line with the internationally approved ISO 9001 standard. The company defines its Quality Policy, which takes into account the context, risks and opportunities of the organization, so that it would be understood and applied by the employees and disclosed to all interested parties.
The focus on the quality and safety of feed in all company's activities is a strategic choice and a main objective of Christa Ltd.
For us, quality concerns not only the products, manufactured by Christa Ltd, but also every aspect of our work and is a responsibility of every employee.
In order to achieve its goals, the organization applies the following principles:
We apply the approved standards for GMP and GDP and requirements of the Bulgarian and European legislation to ensure the safety and quality of the products during the production, storage and delivery and to meet the expectation of our customers.
We use the latest science and technology achievements to improve the processes of monitoring, control and tracing of the materials and products and this way to continuously improve their quality and safety.
We bear the responsibility that our suppliers and contractors share the same principles regarding quality and safety of the products, manufactured and delivered by them.
We guarantee a continuous communication with clients regarding the circumstances, requirements, practices and risks that might lead to a damage of our products and potentially harm their health or the health of the animals, as well as full cooperation with the authorities regarding the feed quality and safety.
We have incorporated the quality management in the business planning process of Christa Ltd and have made it an integral part of our corporate strategy.
We periodically review, evaluate and update the policy, standards and processes of quality and safety management, especially in case of a change in materials, products, packages, processes or technology, to ensure an effective risk management regarding the quality and safety of produced and delivered products.
We create and maintain a working environment in which the quality and safety of products have the highest priority and are responsibility of every employee. By regular education and training we continuously enhance the level of competence and skills of our employees, as well as their motivation.
As a General Manager of Christa Ltd I declare my personal involvement and responsibility for the implementation of the Quality Policy as stated above.
Date: 07th January 2019 General Manager: Hristo Papazov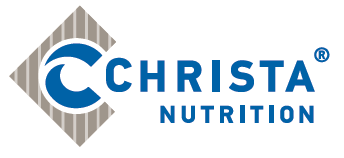 YOUR QUALITY PARTNER FOR BALANCED NUTRITION