Premixes
back to products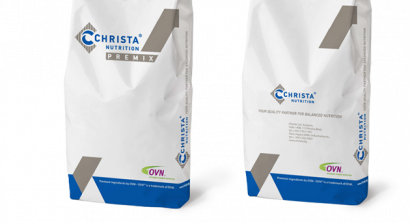 YOUR QUALITY PARTNER
FOR BALANCED NUTRITION
What is premix?
The products in our extensive portfolio are available as single ingredients or homogeneous blends, known as premixes.
A premix is a blend of micronutrients - vitamins, minerals, trace elements and other nutritional ingredients to be incorporated in feed.
Generally, there are premixes with inclusion rate between 0,1 and 1% (vitamin concentrate premix, vitamin and trace mineral premix), or premixes with inclusion rate between 1% to 5+% (Macro premix or complementary feed) including also amino acids, choline chloride or betaine, enzymes, MCP, salts, and some special functional ingredients like essential oils, organic acids, yeasts, flavours, and many other.
Your benefits
Our premixes, deliver the same high standards of quality as our individual nutritional ingredients, while offering a number of benefits of customers. Christa Nutrition premixes are formulated in order to specifically answer the animal nutritional needs. We develop and produce tailored premixes according to the specific local conditions: targets, raw materials with their actual quality and prices, different challenges like heat stress, fertility, etc.). We customize our approach and solutions in order to meet your needs and expectations.
To ensure that you get the best possible nutritional solution for your specific situation we incorporate all local aspects, individual business aspects and regulations in our recommendations and solutions.
Premixes vs. Macro premixes
Whether standard or customized – premixes can be tailored to meet the needs of every feed producer, integrator or farmer. Choosing a Macro premix formulation over purchasing a Vitamin-mineral premix plus selection of single feed additives offers a number of benefits. Our dedicated team of nutritionists work to identify, assemble and incorporate the right combination of quality ingredients into products, adding value and reducing complexity for our customers.
Want to know more about our portfolio of Premixes and Macro premixes? Need a solution? Please, contact our Sales & Nutritionists team!
Our portfolio of Premixes
Broilers
Nikolay Kolev,
0887 620 093
Layers & Breeders
Asen Ivanov,
0886 092 881
Ducks
Konstantin Kostadinov,
0886 138 451

Nikolay Kolev,
0887 620 093

Yordan Yordanov,
0885 136 249
Yordan Ilchev,
0889 561 083
Konstantin Kostadinov,
0886 138 451

Nikolay Vitanov,
0888 435 465