Christa Nutrition

The animal nutrition industry has always been in the heart of our trading activities. From the very beginning we have been sourcing, selecting and offering the best available feed additives from the best animal nutrition companies.
Building on the vast experience and knowledge of our international partners, we have continuously enlarged our feed additive portfolio from basic to branded products, concepts and solutions for the animal nutrition market. By developing good logistic capabilities, as well as technical and commercial strengths, Christa Ltd. has managed to become a leading trading company on the Bulgarian animal nutrition market.
The premix as a blend of essential micronutrients for the compound feed industry has always been one of our strongpoints and major areas of activities in the market. Based on a long-standing partnership with the largest vitamin producer - DSM Nutritional Products, we have been supplying high quality vitamin and mineral premixes for all kind of animals, meeting the individual requirements of our customers. Focusing on premixes through the years contributed to the transformation of the company from a trading entity to a company that provides solutions to customers.
A further milestone in the company development occurred in 2015, when the decision was taken to start building an own premix plant. We have realized, that a local premix production can offer a great potential and would fit well with our available expertize and customer focus. At the same time, it was the next logical step in our development and an expression of our strong commitment to the feed industry in Bulgaria. Long time before the commissioning of the plant, under the newly established brand and logo – Christa Nutrition, our team started preparing for the new challenge.
The new Christa premix plant came on stream in March 2018. The high technology premix site was planned with a long term perspective and an expectation of growth in mind. The modern and functional equipment is supported by state-of-the art automation software, with bar code controlling and full traceability and safety. There is a strict quality system in place, well trained personnel, and most importantly – a serious and professional team with a solid strategy how to better serve the needs of our customers.
We, at Christa strongly believe, that our premix project reflects a real need for the local animal nutrition industry. As a company, we stand for the highest possible quality standards. As a team, we are committed to offer the best value-added products and services in the market. This premix project is the evidence that the company believes in the industry and wants to contribute to sustainable and efficient animal nutrition in Bulgaria.
It is our ambition that this new project will help to convince even sceptical people that premixes produced in Bulgaria may comply with the strictest global standards and regulations.
It is our ambition to establish Christa Nutrition as the premix supplier of choice in Bulgaria!
Christo Papazov,
Manager & owner of Christa Ltd.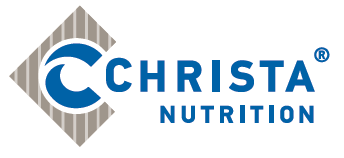 YOUR QUALITY PARTNER FOR BALANCED NUTRITION